Edred Emu's New Glasses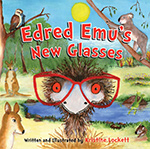 Edred is a happy young emu who lives in the Australian bush. He is fast and loves to run but his poor eyesight means he keeps tripping over and bumping into things. When a bushfire hits, Edred relies on his new glasses and long legs to lead his friends and family to safety.
Edred Emu's New Glasses is Kristine Lockett's second children's story where we get to catch up with all our favourite characters from Kevin's Very First Adventure.