David Wansbrough
David is a philosopher, lecturer, writer and artist. His publications include On the Lip of the Pit, Word Weaving, At the Edge of Darkness and the award-winning A Pillar of Salt.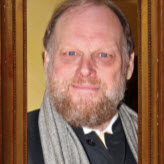 Books
Le Pain Quotidien

Poems on the Pleasures of Life

'Le Pain Quotidien' means 'daily bread' in French. This delightful collection of poems written and illustrated by renowned poet, David Wansbrough. Each poem celebrates the simple pleasures of life - from daily bread, food, wine, love and friendship.