the deepest part of the river won't freeze Poems by Paulette Dube
Virtual Book Launch
http://https://youtu.be/tbDO4G68bFA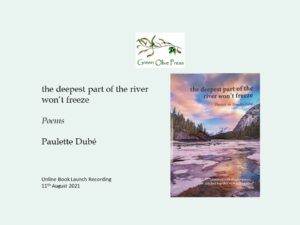 The greatest pleasures are the most unexpectedly simple
David Wansbrough, writer, philosopher and poet finds, "The greatest pleasures are the most unexpectedly simple" in his review of The Little Green Frog by Jack and Harry Beaumont. Available now from www.greenolivepress.com
 I can still remember the radiant joy felt when reading Alain-Fournier's Le Grand Meaulnes. It was about discovering something wonderful that was then lost, and for ever after searched for. When I recently read it again; I was disappointed. I couldn't find something I'd treasured.
But last week I picked up a picture book belonging to my granddaughter, Ivara. I felt I already knew it. A pleasurable feeling suddenly suffused. It was as if I had found something that I didn't know was lost, perhaps because it taps into a platonic archetype. The Little Green Frog is a children's book, but, hey, Lev Tolstoy's wife copied out 10,000 pages of War and Peace by hand around the phrase "the greatest truths are the most simple".
 We all know Basho's poem about the frog who went Spash-O. It is profound but it is about detached phenomenon. This picture book is written with an insider's knowledge.
The author, young Jack Beaumont is a boy, and his brother Harry illustrated it. It is a counting book that starts with: "On Monday the little green frog jumped onto a lily pad." It progresses with wonderfully reassuring repetition to, "On Saturday the little green frog jumped onto six lily pads." (I won't tell you what happened before the final, "and started again. He knew he would make it one day.") The whole book gives joy … The greatest pleasures are the most unexpectedly simple.
Expected Release Date: TBC

$

24.95
Soon to be Released Books
Expected Release Date: TBC

$

24.95
Other News
Towards the end of 2020 Emma Adair launched her latest book 2068: A Novel via Zoom. Emma invited writers and publishers to join a panel discussion about the book. Caroline Webber, Green Olive Press, joined writers KJ Taylor and Stacy Nottle. You can view the launch video here:
Tab Title
Tab Content
Kokoda Secret Book Launch
Le Pain Quotidien Book Launch
Green Olive Press 5th Birthday
Putting Pen to Paper Book Launch