Sunday Sessions: Writing Workshop – Creating Children's Books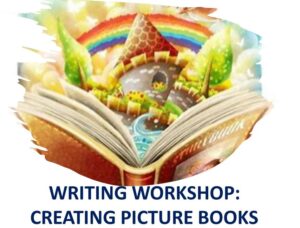 Learn how to create picture books for children.
This workshop will cover:
– How to create characters
– Different storybook styles: rhyming words, free text, repetition, refrains, alliteration, acrostic poems
– Formats and standard page extents
– Balancing text with illustrations
– Illustration styles
– Process from the initial idea to publication
To purchase a ticket go to:
https://www.eventbrite.com/e/sunday-session-creating-picture-books-tickets-128352845817

---
You are invited to a writing workshop on Sunday 1st November
at 4pm.
In this writing workshop, participants will be introduced to the life and works
of several writers who were known for their portrayal of ghosts. From the
unforgettable ghost of Banquo in Macbeth to
Jane Austen's parody of the Gothic in Northanger Abbey,
we will be using spooky passages from the works of Shakespeare, Charles
Dickens, Ann Radcliffe, Jane Austen and Henry James as inspirational writing
prompts. The workshop is being held the day after Hallowe'en, so why not?
Each prompt will be introduced, with information about the author and the text,
and then participants will spend some time writing before sharing (if they want
to!) their work with others.
Even if you do not usually write in this genre, writing in other genres can
help to improve your preferred style and become a better wordsmith.
This workshop is presented by Caroline Webber. Caroline has a doctorate from
the University of Liverpool (UK) for her research on eighteenth-century
literature and editorial practices in Gaston de Blondeville by
the Gothic novelist, Ann Radcliffe. Caroline's critical edition of Gaston de Blondeville was
published in 2020. She is currently working on a critical edition of
Radcliffe's St Alban's Abbey (2020) and
Radcliffe's travel writing (2021).
www.greenolivepress.com
To book a ticket, please go to:
https://www.eventbrite.com/e/writing-workshop-wicked-whispers-ghastly-ghouls-trembling-terrors-tickets-126618375971
The workshop is being delivered online via Zoom, but participants can also join
by phone.
The greatest pleasures are the most unexpectedly simple
David Wansbrough, writer, philosopher and poet finds, "The greatest pleasures are the most unexpectedly simple" in his review of The Little Green Frog by Jack and Harry Beaumont. Available now from www.greenolivepress.com
 I can still remember the radiant joy felt when reading Alain-Fournier's Le Grand Meaulnes. It was about discovering something wonderful that was then lost, and for ever after searched for. When I recently read it again; I was disappointed. I couldn't find something I'd treasured.
But last week I picked up a picture book belonging to my granddaughter, Ivara. I felt I already knew it. A pleasurable feeling suddenly suffused. It was as if I had found something that I didn't know was lost, perhaps because it taps into a platonic archetype. The Little Green Frog is a children's book, but, hey, Lev Tolstoy's wife copied out 10,000 pages of War and Peace by hand around the phrase "the greatest truths are the most simple".
 We all know Basho's poem about the frog who went Spash-O. It is profound but it is about detached phenomenon. This picture book is written with an insider's knowledge.
The author, young Jack Beaumont is a boy, and his brother Harry illustrated it. It is a counting book that starts with: "On Monday the little green frog jumped onto a lily pad." It progresses with wonderfully reassuring repetition to, "On Saturday the little green frog jumped onto six lily pads." (I won't tell you what happened before the final, "and started again. He knew he would make it one day.") The whole book gives joy … The greatest pleasures are the most unexpectedly simple.
Expected Release Date: TBC

$

24.95
Events
No events scheduled. Check back in again soon!
Soon to be Released Books
Expected Release Date: TBC

$

24.95
Other News
No news available. Check back in again soon!
Kokoda Secret Book Launch
Le Pain Quotidien Book Launch
Green Olive Press 5th Birthday
Putting Pen to Paper Book Launch